We're stoked to have moved into our brand new home — a converted underground bunker in the heart of Budapest's IX District on Lónyay utca 22.
It features a stylish 40-person taproom and a fully functioning city center brewery.
The taproom is your go-to place for tasting all of our latest creations, along with a selection of the best craft beers we've tried from other local Hungarian brewers. Our taplist is always live for you to check on Untappd, the taproom section of our website, and our Facebook page (if you're on a computer as unfortunately the live taplist isn't supported on mobile yet; thanks FB).
But it isn't just beer in the taproom; you can also enjoy a wide range of cocktails, wine, and spirits. It's all up to how you're feeling! ?
And the coolest thing (at least in our opinion) is that the only thing separating our bar area from our brewery is a glass door, which means you can see our entire brewhouse as you sit and enjoy your drink.
Check out the view for yourself:
But our brewery isn't just a stainless steel beauty; it's also insanely customized and perfectly functional for our limited underground space. It wasn't easy to get into place, but it was well worth the blood, sweat, and tears of squeezing it through a couple of tight spaces!
Our current setup is made up of two different brewhouses:
1. A production 5bbl (600L) Premier Stainless Systems brewery, which is the heart of our operation that we use to produce all of our Core Range beers.
2. A 1bbl (120L) pilot brewery from SS BrewTech, which gives us a nano rig to test our latest ideas and innovative notions. If you're drinking a Prototype beer, then it's almost certainly been brewed on this cutting-edge piece of tech!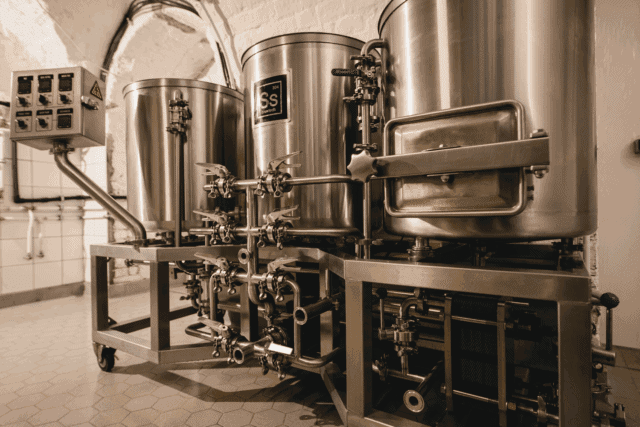 Look good?
Then don't hesitate to drop by for a couple of drinks and a brewery tour — we'll be waiting! ???